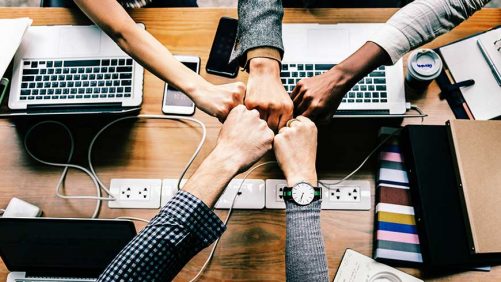 Orbit's Help Desk Function
Posted on: 27 November 2018
Orbit's functionality includes a Help Desk tool which allows your clients to get in touch with your company regarding any support requests.
We developed the Orbit system in-house and rely on it ourselves to run our business so I spoke to Kayleigh – one of our Account Managers – to find out how it works and what the benefits are to both our clients and the company.
Jen: "Can you start by explaining how the Help Desk function works?"
Kayleigh: "Yes, of course. Our client clicks on the Support button in the digital healthcare software they licence from us. This opens up a new window where they can see all of their previous support logs, the status of those and the option to launch a new support request. In the new support request window it pulls through their client details such as name and email address and they have the option to include a phone number. It's simple and clear for them to use, they can attach files if they need to such as screenshots and mark whether it is low, medium or high priority for them.
Jen: "So could they add to an existing support log?"
Kayleigh: "Yes they can, or they can even reopen a closed log. They can also add another enquiry to an existing support log that a colleague has raised already. It's transparent so that they can see all of the queries from their company back to ours. However they also have an option to mark a support query as 'private' so that only that user and us at Mayden can see it if it's personal or sensitive. That's useful for us as our clients are in the healthcare industry. The opposite of that is that there is 'add to email loop' in case they want to include a colleague on the support trail."
Jen: "What happens next? Does that support request go to a particular member of the team?"
Kayleigh: "Yes, the way we work at Mayden is that each client has an assigned account manager. In Orbit you have the option to auto assign new support logs to the assigned manager for that client. That person then gets a notification in the system that there is a new support request – that request is automatically turned into a 'task' and the record is created, safely and securely in Orbit."
Jen: "If that account manager were out of the office can anyone in the team respond to the request?"
Kayleigh: "Yes, and that's what really works for us and our clients. It's not reliant on just one member of the Account Management Team which means the client gets optimum service from us. The transparent nature of Orbit means that anyone can find and help resolve the enquiry by searching for open support tasks – Orbit is so strong at keeping a trail of records that any member of the team can continue. If a member of the team were off for a long time you can reassign yourself to these open requests and any new ones that might come in."
Jen: "Apart from being a way of contacting and keeping a trail between yourself and the client what else is it that Orbit helps with for you?"
Kayleigh: "Orbit allows us to assign the task to others if there is a specific person in another area of the company who can resolve it. Or, for a 'software bug fix' we add the request to a task list that belongs to our Developers and we can change the priority of it by moving the tasks up and down that list. We don't assign bugs to a particular developer as they work in teams on support and every two weeks they switch teams. And even though I've handed over to them in one way the task stays assigned to me so I can keep an eye on the progress of it. The rest of company and I communicate by adding any 'internal actions' against the support request – and the client can't see those."
Jen: "Are the clients happy with the Help Desk function as a means of getting their queries resolved?"
Kayleigh: "When we close the support task our clients have the option to mark whether they were very satisfied/satisfied/dissatisfied. To date we have a client satisfaction record of 98% and we regularly use the Analysis tool in Orbit to report on how we are doing to examine if there is a need to refine our processes or products."
Jen: "Finally, would you say it's beneficial for the company to have this software rather than just relying on phone and email?"
Kayleigh: "Yes, definitely, the benefits are wide ranging. If in someone is out of the office I wouldn't be able to get into their emails but Orbit is transparent. Plus, it's completely auditable so we can trail back and see what has happened, and who at a big client asked for changes and when. We can work on requests collaboratively with the rest of the team both in the office and those who work remotely. We can add our time against the support requests so we can later report on how much time is spent on a particular client/bug/issue which is important to examine productivity and growth. It's good for our finance team as we mark how much we have quoted if we do bespoke development or analysis work for a particular client and we also record our expenses against a client visit. It's all kept in one place and is just so neat and tidy. It's one system for the whole company."
The Help Desk support button can be embedded and utilised in a variety of ways depending on your business. Every version of Orbit also has a Help Desk which is your gateway back to the team at Mayden. We have a dedicated and experienced Orbit team here Monday to Friday 9am-5pm helping you with any support requests you may have around your Orbit system.